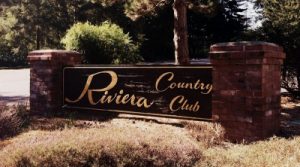 Riviera Community Club was founded in 1966 as a non-profit organization for the preservation and maintenance of amenities for the common use and enjoyment of all members. By protecting the architectural and environmental integrity of the residential area, we promote the health, safety and welfare of all members.
Our community club consists of 3,127 lots of which about 800 include completed homes. We currently enjoy low density living with housing costs below state averages.
Come enjoy the many amenities: a lakeside restaurant with beautiful views, saltwater marina with barbeque gazebo, executive golf course and driving range, tennis courts, a campground, numerous lakeside parks and three freshwater lakes with trout and bass fishing.
Our community is governed by a five member Board of Trustees and ruled by covenants and bylaws with the benefit of the community in mind.