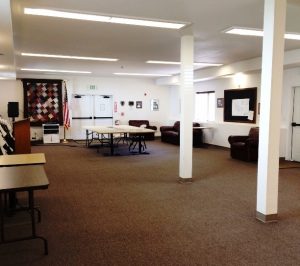 Another valuable perk for Riviera members on Anderson Island is the Martha Smith Room. The Martha Smith Room is a popular facility for private and social gatherings, community events, workshops and classes.  It is located at the ground level of the Riviera Community Club administrative building and is available only to Riviera  members in good standing.  The Martha Smith room can accommodate up to 169 guests (chairs only) or 122 (tables and chairs).. The facility is equipped with a microwave, large coffee maker, a small refrigerator, a sink, leather sofas and arm chairs, 150 folding chairs and five (5) six foot folding tables.
Community and Private Events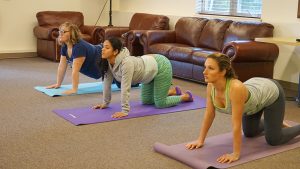 The use of the facilities is at no-charge for  events. Potlucks are permitted, but no alcohol is permitted outside the Martha Smith Room. No smoking is allowed anywhere in the facility.
The booking member must sign a hold-harmless agreement BEFORE THE EVENT and agree to cover all reasonable cleaning and damage costs following the event.
Due to popularity of the Martha Smith Room, interested parties should reserve in advance at their earliest convenience. Please refer to "Use of Facilities" with respect to use of sound systems, tables and chairs; move-in/move-out arrangements, security, etc. Groups larger 50 people will need to rent tables and chairs from outside providers. High quality catering at the Martha Smith room is available exclusively through the Lakeshore Restaurant.
To reserve the Martha Smith Room, please call the Riviera office at (253) 884-4093 or email at contact@rivieraclub.org.